Law Related Education and Civic Programs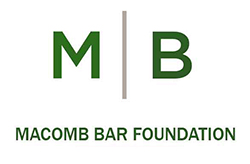 The Macomb County Bar Foundation hosts many programs throughout the year to benefit the public.  Foundation hosted programs give opportunity for grade school students, high school students, adults and seniors to learn and participate in civic education.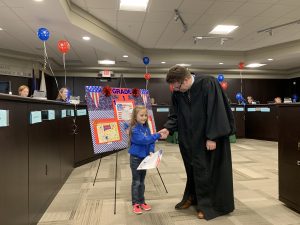 The Foundation joins with many bar associations and foundations across the United States to educate the public on the role of law in our society and the historical significance law has played in the foundation of the United States of America. Following the leadership and guidance from the American Bar Association and the State Bar of Michigan, the Foundation hosts an annual Law Day ceremony to celebrate the effort put forth by area students and teachers.  With the Macomb Intermediate School District as a partner, the Foundation reaches out to 201 elementary and middle schools to offer students the opportunity to compete in poster (grades 1-4) and essay (grades 6-8) contests.  Another 14 private and charter schools are also invited to participate.  The Foundation receives an average of one thousand essays and hundreds of posters each year. Click here to learn more about the contest rules.
A committee of volunteer attorneys meet to read every essay and review all posters, eventually coming to agreement on the top three essays and posters for grades 1 through 8.  The winning students and their families are then invited to attend the ceremony where they are seated in the chairs of the Macomb County Board of Commissioners on the 9th floor of the Macomb County Administration Building in Mt.Clemens, MI.  Many of Macomb County's Circuit and District Court Judges, the Macomb County Sheriff, and Macomb County's own Justice of the Michigan Supreme Court have attended the ceremony and they have literally awarded certificates and prizes to the students.