The Foundation has a long history of awarding grants to non-profits that help the public learn about and access law related services.
The Resolution Center is one of Michigan's foremost Community Dispute Resolution Programs and is a recipient of annual community grants for its youth mediation training program.  Other grant recipient organizations include;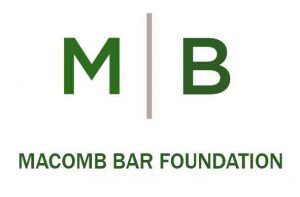 Macomb Literacy
Care House
Turning Point
Leadership Macomb
Historical Society of Michigan
Michigan Youth in Government
Selfridge Air National Guard Base Community Council
Grant Policy
Requests for a financial grant from the Macomb County Bar Foundation (MCBF) must be in writing and addressed to the President of the MCBF and specify the name of the organization which is requesting the grant.  The grant request must articulate the mission/guiding principles of the requesting organization and the purposes for which the grant funds are being requested.
To be eligible for a grant from the MCBF, the organization requesting the funds must satisfy the MCBF Board that its mission/guiding principles are congruent with the purposes of the MCBF as set forth in Section II of the By-Laws of the MCBF, adopted April 14, 2011.  These include, but are not limited to:
supporting law related educational projects and programs for the betterment of the Macomb County community.
fostering and maintaining the honor and integrity of the profession of law, including, but not limited to, preserving items of historical significance.
Macomb County Bar Foundation
Attn:  President
40 North Main
Mt. Clemens,  MI  48043