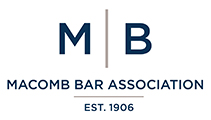 Macomb County is the third largest County in Michigan, and growing!
2019 pop.  874,859
2015 pop.  865,086
2010 pop.  841,355
With the addition of three new Circuit Court Judgeships since 2015, the Macomb County Court system is the third largest in Michigan.
2020
15 Circuit Court
2 Macomb County Probate Court Judges
19 District Court Judges
The Macomb Bar is the third largest bar association in Michigan and growing!
Oakland County Bar Association
Grand Rapids Bar Association
Macomb County Bar Association
Detroit Bar Association
As the Macomb Bar approaches 1300 members, our dedication to helping members succeed in their careers has never been more focused.  By providing quality ongoing education, practice assistance, an office away from your office, money saving benefits, technical tools and helping members grow their professional network through a variety of events, we help our members become more profitable, productive and proud of their profession.