Macomb County Bar Association Awards
Kimberly M. Cahill Civility Award Recipient
Stuart Fraser IV, Fraser & Souweidane PC
The Macomb Bar Association's 2020 Kimberly M. Cahill Civility Award recipient is Stuart Fraser IV of Fraser & Souweidane PC.  The Kimberly M. Cahill Civility Award is given to the member who has brought respect to himself or herself and the legal profession through both dialogue and conduct by cultivating considerate, professional conduct with opposing counsel, especially in the presence of clients; encouraging clients to adopt meritorious positions and avoiding inflammatory and retaliatory tactics and behavior; welcoming  and encouraging attorneys of all races, ethnicity and genders; assisting and mentoring new and inexperienced attorneys; avoiding disparaging comment and criticism of the bench and bar, and commending the profession's members when appropriate.  Mr. Fraser was nominated for this award by Macomb Bar Past President Karent Trickey Pappas and Mr. James L. Spagnuolo Jr. of the Macomb Law Group.
Pro Bono Service Award Recipient
Mary Beth Leija, Mary Beth Leija Attorney At Law

The 2020 Pro Bono Service Award recipient is Mary Beth Leija.  The Macomb Bar Pro Bono Service Award recognizes and honors an attorney that assists with the unmet legal needs of low-income and senior residents of Macomb County on a pro bono basis.  Mary Beth Leija has been practicing law since 1978 – and has been a part time magistrate in the St. Clair Shores 40th District Court since 1992.  Ms. Leija accepted her first pro bono Lakeshore Legal Aid case in 2016.  This was a complicated family law domestic violence case that also involved establishing paternity for one of the minor children.  Ms. Leija went on to graciously accept other Lakeshore referrals for direct representation of domestic violence survivors in all arenas of family law.  In fact, she accepted one of these cases at the eleventh hour when the first volunteer attorney withdrew from the case.  Ms. Leija also volunteered for some of our pro bono clinics, including a Driver License Restoration clinic in March of 2019 for the Macomb County Warming Center.  To date, Ms. Leija provided between 40-50 hours of volunteer work for Lakeshore Legal Aid. Ms. Leija was nominated by Lakeshore Legal Aid.
Special Service Award Recipient
Stephen Steinhardt, Law Offices of Stephen Steinhardt
The 2020 Special Service Award recipient is Stephen Steinhardt.  The Special Service Award is given to those individuals who initiated and/or completed special projects for the MCBA during the year.  Mr. Steinhardt organized a Christmas Eve Dinner to those in need provided by local attorneys.  Stephen was nominated by Dana M. Warnez.  Congratulations Stephen!
Distinguished Public Service Award Recipient
Hon. Denis LeDuc, 42nd District Court
The 2020 Distinguished Public Service Award recipient is Hon. Denis LeDuc. Judge Denis R. LeDuc received his Juris Doctorate from the University of Michigan Law School. Judge LeDuc also served as a Staff Sergeant in the United States Air Force Medical Corps. Prior to his election to the bench in 2003 Judge LeDuc held a private prllll, .actice law practice for 30 years. he served as City Commissioner and then Mayor Pro Tem for the City of Mount Clemens. Judge LeDuc also served as a Commissioner for Macomb County and Magistrate to the 42-1 District Court before his ascension to the bench.
During his long career he has made significant contributions not only as a distinguished member of the armed forces but also as a private practitioner serving the residents of Macomb County for decades. As a jurist, Judge LeDuc has made significant contributions to the local Romeo community, including most recently, spearheading a pilot program to educate local Romeo students about careers in the law.   Judge LeDuc was nominated by Francesco Briguglio.
Extraordinary Service Award Recipient
Hon. Tracey Yokich, 16th Circuit Court
The 2020 Extraordinary Service Award recipient is Honorable Tracey Yokich of the 16th Circuit Court.  The Extraordinary Service Award is awarded to one of the most involved member during the year.  Judge Yokich has always been a strong supporter of the Macomb Bar.  This year she went above and beyond with her consistent involvement in our Membership meetings that have been instrumental in keeping the membership informed of developments with the Circuit Court, Family law matters and so much more. Judge Yokich was nominated for this award by Lori Smith.
Each year, the Macomb Bar accepts nominations from its membership for the awards listed here.  If you know of a member worthy of recognition, please contact the bar.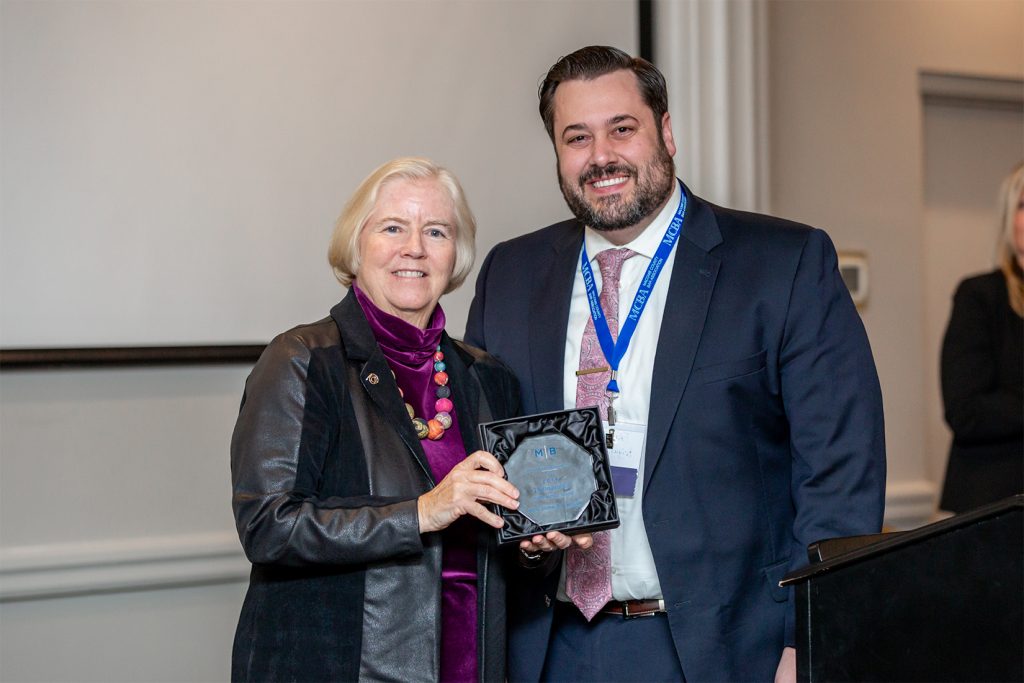 The Extraordinary Service Award is awarded to the most involved member during the year. The Board only chooses a winner in this category when a member stands out as deserving of this honor.
2017-2018 Randall Chioini
2015-2016 Maryanne Deneweth
2015-2016 Hon. Carl Marlinga
2014-2015  Burgess, Sharp and Golden PLLC
2013-2014  Renee Tegel
2010-2011 William A. Moore
1999-2000 William A. Moore
1998-1999 Hon. Walter P. Cynar
1996-1997 Philip F. Greco, Sr.
1994-1995 Henry E. Sarnacki
1993-1994 Keith R. Beasley
1992-1993 Kimberly M. Cahill