Macomb County Problem Solving Courts
Problem Solving Courts are specialized dockets within the criminal justice system that seek to address the underlying problems contributing to certain criminal offenses.  Generally, a problem solving court involves a close collaboration between judges and a team of professionals and volunteers from the community.  Macomb County Courts have been leaders in growing Problem Solving Courts since the early 1990's.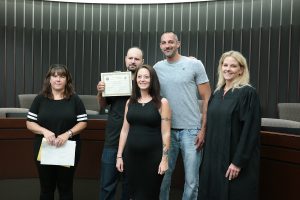 The Mission of this Specialty Court is to serve Macomb County veterans in the justice system through a specialized treatment court docket, focusing on substance abuse and mental health treatment, and by providing the tools required to lead productive and law-abiding lives.
Basic Program Information:
The program is designed to be 18 to 24 months long. It is divided into phases, each marking new progress in the program.  All participants are assessed and treatment plans and/or goals are established. Resources are fully utilized, both through the Veterans Administration and the community to insure treatment, medical needs, housing needs, etc. are met for every veteran. Each participant is assigned a mentor. This mentor is a veteran who has volunteered his/her time to assist and support the participant while in the program. Mentor interaction is confidential and provides a person to lean on who understands military service from personal experience.
Eligibility Requirements
Age 18 or older
A veteran of the armed services with a discharge other than Dishonorable
Have a criminal case, misdemeanor or felony, that is not a capital crime
No current or past criminal sexual conduct convictions
Cannot use marijuana for medicinal purposes
Veteran's Mentors are an integral part of the Macomb County Veterans Treatment Court, (MCVTC).  A mentor supports the veteran through his or her court and treatment process, provides navigation and support, and is an advocate for them. All mentors are veterans themselves. Every attempt is made to pair the veteran with a mentor of similar background, concerning military branch, conflict served, gender, etc. This promotes a higher comfort level for the veteran and a trust can sometimes more easily be formed.  If you know someone who might be interested in being a mentor, please contact our Mentor Coordinator and Macomb Bar member, John Walus, at jewalus@aol.com.
To apply to be a participant in the Macomb County Veterans Treatment Court email;
Circuit Court applications to: lori.menzie@macombgov.org or fax to (586) 783-8179
Email District Court applications to: k.jacquemain@41bcourt-mi.us or fax to (586) 469-1254
or for more information visit www.vetcourt@macombgov.org