The Macomb Bar / CDAM Partnership provides Macomb County Assigned Counsel UNLIMITED MIDC approved CLE for FREE
Macomb County assigned counsel may now complete their required 12 Annual hours of required of CLE online and.  Macomb County assigned counsel may take an UNLIMITED number of our webinars and video replays for FREE!
See the titles below for REGISTRATION CODES. Registration is necessary. To register, visit www.CDAMonline.org, choose your training and during the registration process be sure to choose Macomb as your funding unit and use the proper REGISTRATION PASSWORD.  If you have any questions contact Rick Troy at RTroy@MacombBar.org or 586-468-2940 or if urgent 586-321-4565.
NOTES:
All Macomb Bar / CDAM trainings are Michigan Indigent Defense (MIDC) approved.

Attorneys with less than two years experience are required to complete 16 hours of SKILLS training and 12 ANNUAL hours to be eligible for appointments.

Attorneys with more than two years experience are required to complete a minimum of 12 ANNUAL hours.

CLE hours are recorded annually, January 1 through December 31.

CLE hours cannot be banked or carried over to the next calendar year.

All attorneys begin at 0 hours on January 1.

Attorneys that complete training from training providers other than Macomb Bar / CDAM are responsible for providing the Macomb Bar with copy of certificate of completion.  It is advised to confirm that trainings are MIDC approved before taking the training. 
2021 Upcoming Criminal Seminars
2021 Skills Training Via Zoom (Evidence Boot Camps and Skills Training)
Information and How to Register

Macomb County Assigned Counsel / Public Defenders are eligible for all Macomb Bar / CDAM trainings at no cost.
Registration is through the CDAM website and the Macomb Assigned Counsel Registration Password is required. Contact Rick Troy at RTroy@macombbar.org or Dawn Fraylick at DFraylick@macombbar.org for registration instructions and registration passwords.
CDAM / Macomb Bar Evidence Boot Camp B (ZOOM)
Execusively for Macomb Assigned Counsel / Public Defender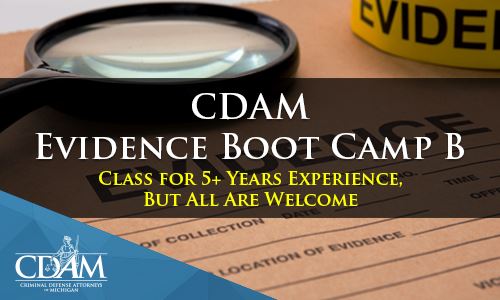 Friday, December 3, 2021, 9am-5pm
REGISTRATION CODE:  13MOSCL
$240 value.
Faculty:
Thomas Cranmer and Edward A. Bajoka
If you have participated in a seminar in the past, either in person or by video, that particular seminar will not count towards the required 12 annual hours. In other words, no repeats.