2021 Foundation Scholarship Recipients
2021
Deja Monet Davis, University of Detroit Mercy School of Law
Kimberly M. Cahill Memorial Scholarship
Savanna Polimenti, University of Detroit Mercy School of Law
Philip F. Greco Memorial Scholarship
2021 Kimberly Cahill Memorial Scholarship Recipient
Deja Monet Davis
By Dana M. Warnez,
Macomb County Bar Foundation Past President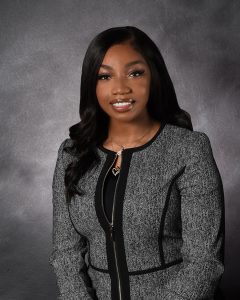 I am writing, as one who stood upon and continues to stand upon the professional example my sister Kimberly Cahill provided not just for me, but for all of us in the Macomb County legal community, to introduce you to Deja Monet Davis, who is this year's recipient of the Kimberly M. Cahill Memorial Scholarship awarded by the Macomb County Bar Foundation.
Deja Monet Davis is a 2021, cum laude graduate of the University of Detroit Mercy Law School.  Among other things, while in law school at UDM, Ms. Davis served as the President of the Black Law Students Association, was:  the Student Chair of the Diversity Committee, a member of the Student Alumni Leadership Council, coached Moot Court competitors, was a student academic mentor to fellow students, and a Patrick A. Keenan Appellate Advocacy Tournament Champion.   Outside of school, Ms. Davis gained valuable experience working with the Federal Pro Se Legal Assistance Clinic, and as a law clerk for Lakeshore Legal Aid.
In her undergraduate career Ms. Davis was an All-Academic Big Ten Athlete (track and field 2014-2018) and Dean's List Honoree, earning a Bachelor of Science degree in Criminology at the Pennsylvania State University.
In reflecting upon all of Ms. Davis's achievements in law school, the Dean of University of Detroit Mercy Law School Jelani Jefferson Exum describes Ms. Davis saying, "What is remarkable is Deja's selflessness in using her leadership skills to serve others and to improve the space around her.  That is what I find inspiring about Deja Davis."
Ms. Davis informs me, that upon passing the bar, she plans to take up the practice of labor and employment law with Miller, Canfield, Paddock and Stone, PLC.   We wish her best of luck, and look forward hopefully to her joining us in local Macomb County bar community.
Law School in 2021:  A Student Perspective
By Savanna Polimenti, University of Detroit Mercy School of Law
2021 Philip F. Greco Memorial Scholarship Recipient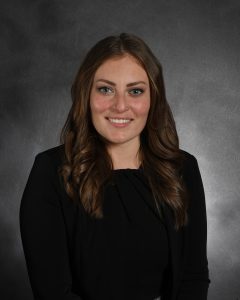 I am a non-traditional law student. I took five years off between graduating from my undergraduate program and applying to law school. I am also a single mother of three young sons (ages 8, 5, and 2). However, as a 1L, I made it into the top 10% of my class, was voted class President, and co-founded a groundbreaking organization at Detroit Mercy Law called Parents in Law. I am also a member of Moot Court and Law Review and currently going through OCI. Just say it – everyone does – "You sure have a lot on your plate! I don't know how you do it." Let me tell you, I was in uncharted waters coming into law school as a first-generation law student but operating in a pandemic (where absolutely nobody knew how to stay both productive and sane) was something else. The key, my friend, is balance.
At Christmas time, I will be halfway through my JD program without ever stepping foot into a law school classroom. As a member of the graduating class of 2023, I have had the luxury of turning off my camera to cry and pet my cat after a botched cold call. Every exam that I have taken thus far has been open book and open note because they have been administered remotely. The introverts in class escaped cold calls with ease by turning their cameras off and typing into the Zoom chat, "Sorry, poor connection," without penalty. We almost always wore sweatpants to class, and we never had to commute.
If you had an entirely traditional law school experience, I imagine you reading this wide-eyed, feeling wholly cheated. I promise that the online format comes with both good and bad, though, and I am unpacking it all for you.
There were no welcome mixers, handshakes, swag giveaways, or in-person interviews for OCI. There was no such thing as poking our heads into professors' offices or eating lunch together. We never ventured into the city or sat in the library. We did not have in-person study groups. We never went into the bookstore or cafeteria. We could never turn off law school because we were doing it in the same space where we ate, slept, and theoretically relaxed. We could not go to coffee shops to study because only pick-up services were available for what felt like an endless number of months. We started out bright-eyed on our law school journey, but we were met with some times of darkness.
I always tell people that if law school could be done in a vacuum, it would be a piece of cake. But, in reality, life throws in a stomach flu that puts you days behind in your reading, a breakup that steals your focus, planning your annual trip to see family, making time to go to the gym, the relentless fatigue, the busted transmission, the closed daycare, the breaking point at which you need to just drive to the lake and sit in the quiet, and the feeble attempts to eat something that isn't wrapped in cellophane that really makes law school seem impossible.
These challenges were only exacerbated by the pandemic. Any exposure in a school or daycare facility left parents with their children at home for fourteen days. Loved ones were losing their lives at unimaginable rates, and the grief was heavy. There was constant panic in the air. Everyone was under a financial strain, and businesses were closing back-to-back. We were all gaining weight from being cooped up and were feeling restless. Those living with or caring for elderly family members were terrified to go in public and risk exposure. People went a year without hugging their grandmothers. The isolation, in my opinion, was the worst of it.
There were times during my first year of law school that the pressure got to me. I considered dropping out more than once, feeling an eternity behind when life got in my way, and I was so ashamed that I wasn't living up to my own high expectations. I was astounded, though, that nobody intended to leave me behind, and everyone felt confident in my ability to come out on top. The toxic competitive law school environment of the past is simply no more, at least in my law school. Students were offering me notes and outlines for classes that I missed without thinking twice and texting to ensure I was okay.  I scheduled a meeting with the Dean of Students when I struggled, and I was met with solutions and compassion. I utilized my teaching assistants. I found myself a study buddy, and we formed a lifelong friendship. I was able to reschedule a final when I fell ill during the fall exam period. I applied for and received accommodations, which I had never considered inquiring about before. I learned which resources were available to me, and I utilized them.
In terms of that balancing act I mentioned earlier, well, the rules just need to bend sometimes. My protein-starch-vegetable dinner rule sometimes fell to the wayside, and we ordered pizza. Thirty minutes of screen time each day for the kids turned into two hours if I was under the weather or just worn out. I scheduled time for paper writing, reading cases, and studying just like I had time scheduled for my classes. I tried my best to treat each block as non-negotiably unavailable, but inevitably I just had to negotiate with myself right out of that one, too. During the fall, I volunteered with a local veteran's organization but had to respectfully back away from it when my plate became too full in the winter. From the hours of 4 p.m. to 9 p.m., I did not study unless I was really under the wire- that is family time. However, this coming fall, the courses I need were only offered in the evenings, from 4 p.m. to 8 p.m., and now the system I used last year must change until Christmas. I made myself go outside, even when it made me feel guilty - I rode my bike and walked the nature trails with my boys or geocached for an hour or two. When the weather was challenging to that endeavor, I would take the boys to the kid's center at the gym and float in the jacuzzi until I felt fully cooked through. I bought a ticket to go to my brother's wedding out of state, but I had to sit in my car during the reception and put the finishing touches on a legal writing assignment before turning it in with just minutes to spare. Law school is a juggling game, and to avoid neglecting any facet of my life beyond repair, sometimes I just had to let something else go.
Looking forward, this year at Detroit Mercy Law, things are starting to look a little bit different than the 2020 experience. We have four class options, allowing students to be in person as much or as little as they are comfortable with: in-person, online, hybrid, and hyflex. In-person and online options are self-explanatory. Hybrid courses are structured to have both in-person and online meetings each week for every participant. Hyflex courses are simultaneously taught in-person and online during each scheduled period by utilizing traditional classroom lecturing and live streaming to reach predetermined halves of the class. 1Ls and 2Ls opting for the in-person experience are on a level playing field, coming into school for the very first time. We still do not know what options will be available for the winter semester, as the Delta variant looms over us.
Overall, when people ask me if I would have preferred to be in person for the first year of law school, the answer is no. First, because the flexibility of online learning is simply unmatched. I felt as if my efficiency was totally maxed; I was folding socks while listening to prerecorded lectures, preparing dinner with my laptop on the counter, and staying connected to class through my cellphone when I had to haul a sick kid to the doctor. Second, I found myself acutely aware of the divide between students and became moved to take on leadership roles to unite us- something that I may not have been inspired to do without the challenges of the online environment. Third, my stress and focus were diminished. No driving, no tapping pencils during exams, no gum chewing behind me, no doors opening and closing when people went to the bathroom, no watching how quickly or slowly others turned in their exams. Online learning is built for the intrinsically motivated, the night owls, the multitaskers- all of which are me. I know that those who struggled are raring to get into the building. Still, aside from my visits to the law librarians or occasional social events, I will be happily riding the online law school train until it ends.